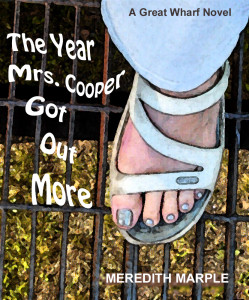 The Year Mrs. Cooper Got Out More
A Great Wharf Novel
Available as a paperback and digitally as a Kindle e-book
Buy it HERE
GOLD WINNER of a 2016 FAPA (Fla. Authors & Publishers Assoc.) President's Award
Description
Living in a small town in Maine … doesn't keep you safe. The coastal tourist town of Great Wharf, Maine, boasts a crime rate so low you might suspect someone's lying.
Nursing long-simmering secrets, agoraphobic empty nester Mallory Cooper fears most everything.
Careful to keep the red wine handy and loath to leave the house, Mallory misses her happier self—and so does her husband. To please him as well as deflect a nosy neighbor who's curious about a New Age gift shop, Mallory steps out to explore.
A chance comment to the vampy store owner seals the proprietor's and others' fates while Mallory chases her own demons for an overdue showdown.
With the courage to change, Mallory learns that forgiveness, love, and friendships will help her overcome fears and scars.
Sample Editorial Reviews
D. Donovan, Senior Reviewer, Midwest Book Review
[T]he proof of a superior production lies not so much in the plot itself, but in the personalities of the protagonists -and it's here that Meredith Marple shines. This book is replete with insights [weaving] into the quietly-compelling saga of one woman's transition…It's ultimately a murder mystery but there's nothing 'formula' about it. The couple's evolving life is just as compelling (and even more deeply explored) than the murder scene itself -and that's what keeps its story line refreshing, compelling, and ultimately a winning standout from many genre peers.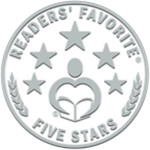 Tina Gibbons, Readers' Favorite
I couldn't put this book down. The mystery flowed smoothly and kept me curious. The story was addictive and I couldn't wait to find out what happened next. The author's voice was pleasing and constant and the polished prose stood out as stellar. This is one of my favorite reads this year. I strongly recommend it.
Red City Review
The year is 2014, and an underlying current of malaise is stirring behind the closed doors of residents in the small and quaint Maine town of Great Wharf … Meredith Marple's debut novel is reminiscent of Peyton Place minus the anticipated sordid secrets. Indeed, Marple's tightly knit cast is shrouded in secrecy of one form or other. Yet her well-defined characters, for the most part, are made up of decent individuals at different stages in their lives–all holding on to unresolved issues … Kudos to Marple for creating a fascinating and engaging read!